CULTIVATE YOUR EMPOWERMENT
DO THE UNIVERSE A FAVOUR - UNLEASH YOUR POWER
Cultivate your Authentic Self
You Want to be the Best Version of Yourself...but There's a Problem
Can you relate to any of these?
You're aware of where you are in your life, but you can't shake this feeling that there's more?
Are you constantly second-guessing yourself, unable to commit to a plan or the next step forward?
Or do you really know what you want, but don't know how to get there?
I was right there with you...
Ryan Moodley, Certified Cultivating Empowerment Coach
I understand how you feel. I felt exhausted & tired. I knew I was alive but did not feel like I was living my life. I felt like everything around me was about how it looked, not how it felt. I felt helpless, unworthy & judged. I looked for pleasure wherever I could find it, only for it to last for a very short time frame. Before I knew it, I was looking for more again. All that was happening to me daily & yet for some reason, I had this deep knowing, that there was more to my life than I was currently living.

Sifting through the Internet, I found my Mentors. People who spoke freely about having more Meaning in life, about finding Fulfilment, about how Investing in themselves – helped them understand themselves – helped them produce the best version of themselves & therefore produced the results and outcomes of the life they visioned for themselves. It resonated deeply with me & through their teachings, I pulled myself out of the repetitive life I was living, to forge my own way. I asked myself what happened, what did I do to get from where I was to where I am today? The answer that came to mind was "I grew, I Cultivated". I asked myself how do I feel today as opposed to several years back? The answer that came to mind was " I Feel Empowered". I became a "Cultivating Empowerment Coach" to help others do the same.
Signature Coaching Program
In my programs, I'll personally guide you along the path from where you are to where you want to be. We'll clarify the vision you have for your future, understand what's stopping you from getting there now, map out a plan to get you there, customise a solution that suits you until worry and doubt are replaced with strength and certainty. The one constant in your life is YOU. You invest in that, everything around you changes. To start the process of investing in yourself, click the button below.
Ready to invest in yourself?
Three Steps between you and the best version of yourself
Click the button below to book your FREE DISCOVERY CALL
Together we'll collaborate & come up with a plan to discover your Power
We'll put the plan into action and make your dreams your reality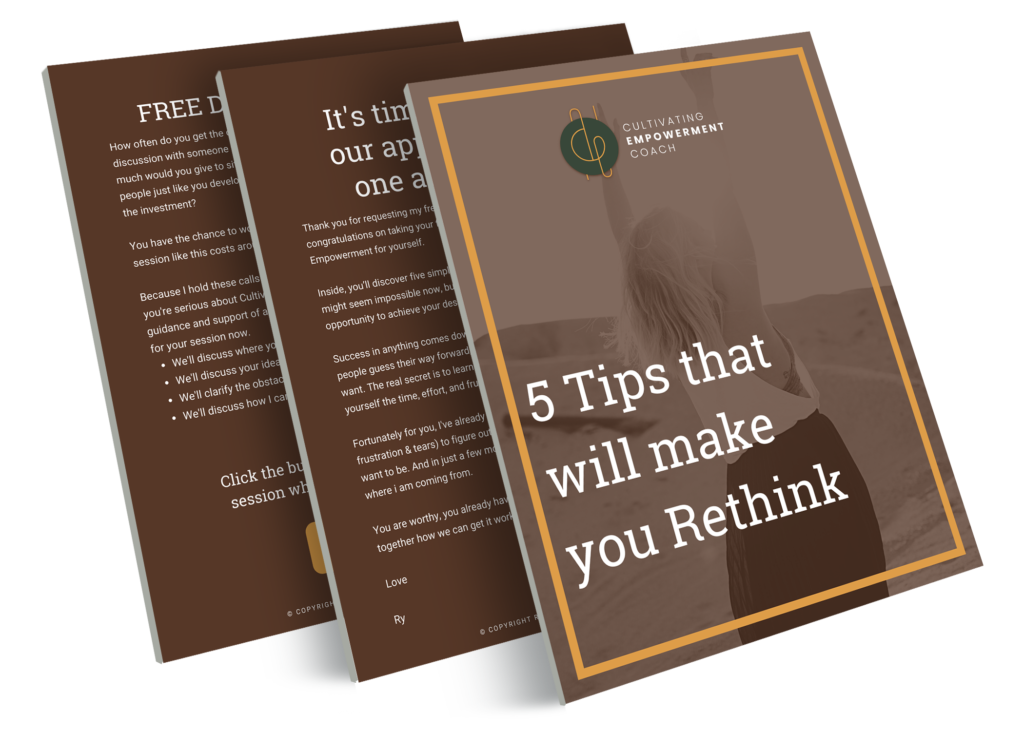 5 Tips That Will Make You Rethink
We'll never share your information. You'll also receive resources & exclusive offers. Privacy Policy